'A house party will do' is what most would say but have you ever considered of doing half of your party on a road trip- wait for it on a bus! You don't have to purchase a full party bus. A party bus rental service in Toronto will do the trick just fine saving cost and time.
However, there are many Toronto Party Bus Rental service providers, and therefore, you need to study different companies before you make up your mind. Majority of the Party bus rental service providers are active on all social and digital media platforms making it easy for you to do your research. Have a look at why renting a bus has become the trending hit now!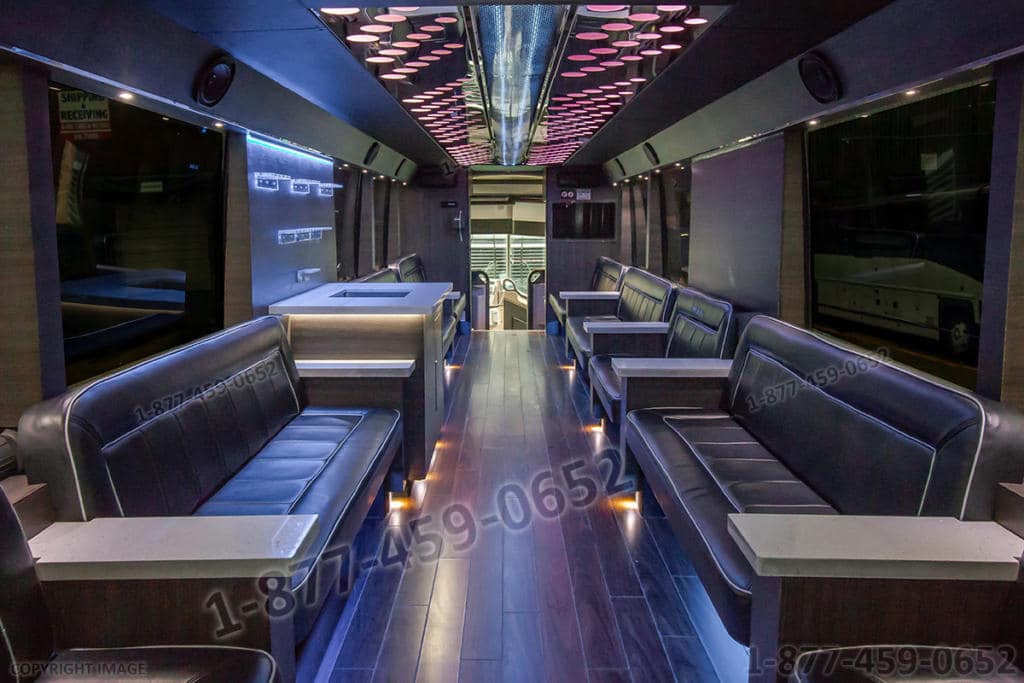 Toronto Party Bus Rental service comes with unequivocal millions of reasons. Popular Toronto Ideas are inclusive of prom parties' bus, bachelorette/bachelor party's bus, birthday party's bus, Toronto limo bus, wedding party's bus rentals, et al. Regardless of the occasion at hand, a party bus will always is an excellent choice for huge groups.
The list of party ideas is huge to exhaust at once. Do your research and go through different customer reviews to understand how the company you are about to trust works. Remember you need value for your money as well as have fun to the fullest with your family members or friends.
WHAT YOU NEED TO CONSIDER WHILE RENTING ANY PARTY BUS IN TORONTO
Yes, you might have a massive party at hand, and you are probably thinking of hiring a party bus for your unforgettable occasion to come, but how will you know the perfect party bus for you? Which party bus rental companies are the best?
Don't even think of a company ruining your big day, because of trusting the cheapest company. During the party, planning sessions make sure you already understand the charges to set aside enough budget to enable you to get the best services. Look at these factors you need to consider when looking for an able and the most reliable Party Bus Rental Service.
Party Bus Price
A vital factor that first people will look into is the charges more, So with the large group, of course, low prices work, but the excellent value comes with quality, and that implies some extra pennies. Do not be fooled by meager prices. You need to factor in other considerations before making a choice.
However, the price should not be the best way to charge the quality of the services you will get. Some people go for the cheapest which sometimes can be a good idea but look for the best service for a reasonable price. Check out different companies to know their costs, and if possible visit them physically to look at the buses, you are about to hire for your party.
Type
Now, this is the most crucial factor that you should consider taking your time and choose the best. Why settle for a party bus that smells like excrements, looks like hot garbage with torn ripped seats? Look at the sound system, ventilation, space, chairs, quality service and if they can adjust some few things to your taste. Insist on seeing the bus itself and if they're reluctant, steer clear.
If you can all fit in a limousine, then it will also offer an excellent alternative for your party. On your big day don't go for anything less than quality and luxurious. Check the interior décor and make sure everything you need is on board. Some party bus rental companies in Toronto decorate the buses according to the client's event.
Also, remember to ask any question about the buses before you leave the place, then do compare the companies before you make your final decision.
Customer Service
Customer service is very vital. You will know the quality of their work by weighing how they respond, the speed to which they reply to questions and their confidence. If they seem lame and dull, then that should tell you how boring their services will be. Take a friend with you to help you in choosing the best party bus rental provider in Toronto.
Reviews
Ratings and reviews, arguably, are trending factors people use to choose online services. People who have used and liked the bus service you are thinking of will highly credit and star it. Always look at what people say about the party bus rental company you are about to rent. If you can contact one of the customers the better, but if it's not possible to judge the company through the customer reviews. A happy customer will never hide his/her joy and also will not fear to express the disappointments.
WHAT ARE THE SERVICES PROVIDED BY THE PARTY BUS RENTAL COMPANIES?
Having looked at the factors that you need to consider, it's high time to know the services widely covered by significant Party Bus Rental Service providers' in Toronto.
Prom Party Bus
Prom parties are full of fun and that will be more fun if you get the best bus to take you to the party then get you back home. The prom party bus is decorated by party bus rentals to meet all your needs from music to comfortable seats and luxurious interior décor. Check out the luxurious prom party buses with different rentals, compare the pricing, visit them and decide.
Wedding Party Bus
Do you want something luxurious and exquisitely classy such as SUV, Stretch Limo, or Escalade for your wedding? Wedding Party Bus Rental services in Toronto have excellent options which will boost your day to become even more fun without digging into your pockets. Party buses can accommodate 36 adults at fair prices to make that wedding a lovely experience that you'll live to remember.
Corporate Party Bus
As a company, when going for team building or seminars, it's always a good idea to go as a team. Thus, rentals offer the best corporate party bus that will keep all your staff members comfortable throughout the journey. Contact us for a good deal and you will never regret your choice.
Niagara Party bus
Are you planning to host your party at Niagara Falls? The best option is the Niagara party bus. You and your friends need to be transported in a cool, luxurious and classy bus and that's exactly you need to look for. Check out the different Niagara party buses on different websites then choose the one that suits your crew.

How much does a Party Bus Cost?
Finally over with the nitty-gritty aspects, here is the part you came for and have been waiting. However, the prices depend on different factors such as:
Time of the Year
When it's that slower year time, approximately between January to March, companies discount their prices. When it gets to that busier time, spring to fall per se, you get to pay standard or premium prices.
The day
Often several rental companies consider Sundays to Thursdays as slower days. Should you want to save up, it would be wiser to book on days between the mentioned days. Nonetheless, if you're going to book on Saturday or Friday per se, you'll be charged a premium or standard rates.
Occasions
There is a premium price mark up when it comes to some circumstances such as weddings. In this case, they come up with an increased price percentage of about 30 to 50%. It is relatively common across the wedding assiduity and is not an exception for party and limo bus rentals.
Party Bus Sizes
The bus-size also impacts the price. You shouldn't expect to pay a similar amount for 32 seats for that of 18 places. Different amenities like refreshments or bathrooms will affect the pricing too.
In summary, renting a party bus needs you to crucially do your homework before getting one for that special occasion. Toronto party bus rental companies are many, and you need to do your research on which one satisfies your needs. For pricing idea of bus rentals, you can check out this link as well. Having said that, why not tip that bus or limo driver at the end to appreciate them. Always rate the services you get from the company you hire and help the others looking out for similar services.
You can read more about the rules to be followed on Party Bus Rental in Toronto to avoid any trouble and have a comfortable trip.