So, you have decided to go with the Toronto Party Bus Rentals for your event. With this choice, you are going to break the belief that a party can only be held in a room of four corners and a stationary place. Not anymore, with the Toronto party bus, you are on a novel journey full of zeal – and a mobile party experience.
The magic behind the wheels – The luxury on a party bus
Ah, luxury! That is what instantly brings you to the edge of your seat. The party bus brings the luxury to your doorstep in a jiffy. Step inside the bus, and you are in for opulence at its best. Plush seating, ambient lighting and the amenities would be what would make it a truly unique option ever. In simple words, party buses are the embodiment of what we can call "travelling in style". And yes, we forgot to mention it. The party bus also has a bar – so you do not need to worry about the "real party mood".
Fun has a new address now
Yes, the fun and entertainment now have a new address. And the new address is – as you would have guessed it right, is the party bus. The party bus becomes your personal nightclub. The thumping music, video lights, and a unique vibe are what would make the party bus experience memorable in its own way. No one is judging you. You can dance out and even sing to your heart's content/ No one is watching you. And yes, entertainment on a party bus is not only about dancing; it is also about new ways of having fun. Karaoke, singing, games – think of anything that would enthral you. The party bus lets you enjoy everything at your fingertips.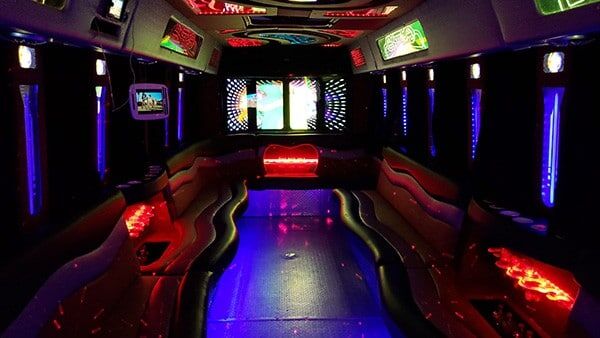 Laugh it off with the comedy central on wheels
How about hosting a few comedy shows on the party bus? No, we are not talking about inviting some famous comedian to the event. Why can't you become comedian yourself? Show your funny side to the world around you and make the passersby and pedestrians wonder what's happening. You can even have someone among you to do some sort of stand-up comedian. No, you need not be a professional. No one is judging you.
A city known for its vibrancy, Toronto offers you plenty of options to revel in a novel way. And the Toronto party bus is the best and perfect way to help you do that. Be it a birthday event, a bachelor party or anything else, the party on a party bus should prove to be something much unique, enticing and special in its own right.
So, what are you waiting for? Not yet ready to embrace that exciting experience with a party bus in Toronto? That special and unique magic that you can explore with the Toronto party bus is indeed great in its own right. Hop on the party bus, grab a seat and let the luxury be something that you will never forget for a long time to come.